Curriculum Intent, Philosophy and Vision
 Our Academy seeks to be a worshipping Christian community built on agape (unconditional love), courage, trust and forgiveness. Our mission is to educate the whole person, so that each may be enabled to unlock their full God-given potential.
Therefore at the heart of our academy will be:
A Christian education as observed in the doctrines and practices of the Church of England.
Opportunities for worship, prayer and reflection, offered to God and central to the life of the academy, rooted in the Scriptures and in our participation in The Holy Eucharist.
Relationships at all levels that reflect the great and equal value placed by God on each human being as revealed in the life, death and resurrection of Jesus Christ.
Affirmation of every individual's unique contribution, regardless of age, gender, ability, sexual orientation, background or religion.
A sense of curiosity and excitement about God's world that will be stimulated to encourage each individual to search for truth, meaning, purpose, and a faith by which to live.
The joy of discovery and the discipline of study to prepare students for adult life in their work, homes and families, leisure pursuits and relationships.
A breadth of educational experience so that our technological expertise is well balanced by religious education, humanities, science, languages, mathematics; aesthetic, creative, vocational, and social learning activities.
A curriculum promoting high expectations, recognising different styles of teaching and learning, breadth of achievement and methods of assessment which will demonstrate equal concern for the educational needs and aspirations of all.
A safe and secure environment.
All members of our community will recognise that everyone is made in the image of God and so will be valued in a spirit of mutual respect and tolerance to challenge all forms of stereotyping, prejudice, and discrimination.
Encouragement to develop physical and recreational skills and interests that will enrich lives, and promote a keen, sympathetic awareness and stewardship of God's world, its environment, cultures, and lifestyles.
Guidance to find a true vocation in life, to prepare students for the world of work and their lives as active citizens in the community and as committed members of their faith community.
Active partnerships nurtured at every level which reflects the academy's place and role in the community.
The Golden Rule: 'In everything, do to others what you would have them do to you' and the Christian principle of Agape, (unconditional love).
Christian Ethos
 St Peter's Collegiate Academy is a distinctively Christian Academy and at our heart are core Christian values: agape, courage and perseverance, compassion, faith, hope and trust, forgiveness, fellowship and community and humility. Although we are a Church of England faith Academy, students of all faith backgrounds (and of no faith) are valued. Our 'Mission Statement' and 'Five Keys to Learning' (being; respectful, responsible, supportive, reflective and an active learner) both acknowledge that many of our students come from non-Christian backgrounds. As such our 'Five Keys to Learning' are supported by fundamental teachings from the world's six main faiths: Christianity, Buddhism, Hinduism, Islam, Judaism and Sikhism. The Academy endeavours to reflect the rich and diverse heritage of Wolverhampton.
Worship is an immensely important aspect of our community life at St Peter's. The school has a long association with St Peter's Collegiate Church located in Wolverhampton town centre. We celebrate Eucharist at St Peter's Church to mark a number of occasions: year seven Dedication Service, Christmas, Ash Wednesday, Easter, St Peter's Day and the end of the academic year. In school there are daily acts of either form or collective worship which help to strengthen the Christian distinctiveness of the school while also nurturing spiritual growth. All students are encouraged to take an active part in worship and be prayerful.
Our Religious Education department supports and enhances student experiences of Christianity and the main world faiths. This is done in accordance with guidance given by the Church of England Education Office and the Diocese of Lichfield.
Curriculum
St Peter's Collegiate Academy provides a curriculum relevant to the needs of modern-day Britain – balancing academic rigour with a realistic understanding of the students' personal and social needs.
This begins with Key Stage 3 where our curriculum provision is built on a strong academic core based around the National Curriculum.  At Key Stage 4, this is enhanced by a wide selection of additional subjects including the choice of 17 optional subjects and, in the Sixth Form students study three A level subjects chosen from a suite of over forty subjects. Every effort is made to enable the preferred choice as requested by students, but where an option is not viable in terms of numbers and/or staffing, Governors reserve the right to withdraw the subject option offer. Subjects running are also lead by student choice
We aim to balance an academic curriculum with many enrichment opportunities to enable the students to be best-equipped for their roles as future citizens
We provide a broad and balanced curriculum that creates flexible pathways for individual students to achieve the best outcomes they can.  Students' experiences are geared to develop their strengths, aptitudes and interests to aid and support them in their next steps.
A full curriculum is provided that follows the National Curriculum programmes of study.  This leads to both academic and vocational qualifications in key Stage 4 and 5 where students can follow a mixture of courses. St Peter's continually refines the curriculum on offer to students to ensure that their needs and interests are fully met.
For more information on our Curriculum visit https://stpetersacademy.org.uk/subject-overview/ or contact [email protected]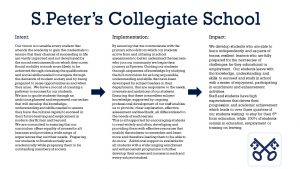 Subjects taught at St Peter's Collegiate Academy:
Key Stage 3 (Years 7 and 8)
We work alongside Primary Schools to make sure we are prepared for the academic and emotional needs of our students.
This phase ensures coverage of the National Curriculum Foundation Subjects through a minimum of 24 learning hours per week. All subject leaders can confirm that they are able to deliver these Foundation subjects in appropriate depth over 2 years to support progression into the next Key Stage and the broad options programme.
When children come to St Peter's, we initially place them into mixed ability sets to enable them to familiarise themselves and settle into secondary school life. By utilising transition data and baseline assessment data effectively, we identify those students who require additional support to enable them to access the wider secondary curriculum that is available to them. Those who require extra support are offered help via a wide range of interventions in the school.
At Key Stage 3, all students are taught:
Mathematics, English, Science, Computer Science, Geography, History, PE, Art, Design Technology, Modern Foreign Languages, Drama, Performing Arts, Music, Religious Education, Citizenship and PSHE.
Key Stage 4 (Year 9, 10 & 11)
During this phase, students continue with an emphasis on the strong academic core and have the opportunity to opt for new subjects to study.  There are initially up to 19 options for students to choose from, which is narrowed by listening to the student voice prior to a final option document.
Students are guided into pathways where they have shown particular aptitude through KS3.
All students regardless of ability or SEND, follow a full curriculum studying 11 subjects (including PSHE and Core PE), unless there are specific reasons that require a tailored program of study. All students will sit 9 examinations (from GCSE, BTEC, and CTEC) and none of these are taken early in Key Stage 4.
All students study the strong academic core of:
English Literature & Language
Mathematics
Science
Religious Education
History or Geography
Key Stage 5 (Sixth Form)
The Sixth Form provides a strong curriculum for over 240 students.  There is a wide range of traditional academic A Level subjects on offer as well as BTEC Level 3 courses and CTEC courses.
Sixth Form students study three A level subjects chosen from a suite of over forty subjects. Every effort is made to enable the preferred choice as requested by students, but where an option is not viable in terms of numbers and/or staffing, Governors reserve the right to withdraw the subject option offer. Subjects running are also lead by student choice
100% of Sixth Form students combine academic and vocational qualifications. All students undertake work experience and there are high levels of volunteering and participation in the extended curriculum. They also have a visit to a University and take part in an Employability and Higher Education Week.
Here is a link to our Sixth Form subject handbook, this document details the courses we offer.
Exam Board Spec
Exam board info found can be found here
Enhancement & Enrichment Programme (All Year Groups)
Our extensive Enhancement & Enrichment Programme enables students to take part in a wide range of additional opportunities and to develop increased depth in their knowledge.  It provides further opportunities to stretch and challenge the most able students as well as allowing more time to develop deeper knowledge and understanding for students who may need further support.
Full Enhancement & Enrichment Programme
Subject Specific Curriculum Overview Documents
Individual Subject Curriculum Overview Documents